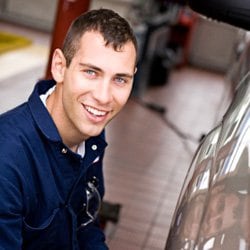 Welcome to Our Parts Department
Find the Ford Products that Your Vehicle Needs
Here at Christian Brothers Ford Inc., we have seen our share of drivers in need of tires, oil filters, wiper blades, and custom Ford accessories. We believe that there's no reason to settle for less, and aftermarket parts are subpar products that can't live up to the rigors of your commute. Rather than shop aftermarket parts in a random store, why not come to us? The difference we make is the guarantee that your parts are built to your vehicle's standards and can withstand the performance specs of your F-150, Escape, Explorer, Bronco Sport, or Ranger.
OEM Ford Parts Make Part-Hunting Easy
All the auto parts that you find here at Christian Brothers Ford Inc. are backed by their OEM, meaning that they're designed by your car's manufacturer for your specific type of car. So, what does that mean for you? OEM Ford parts can boost your confidence and help you save time on searching because they cut out the guesswork that goes into shopping off-brand parts. OEM parts provide the right fit every time.
Outfit Your Vehicle Today
The quickest way to get started customizing your Ford vehicle, is to take advantage of our easy-to-use, online order form. Fill out this request form and tell us exactly what you're looking for, and we'll get you on the right path. You can also stop by and visit us in person in Crookston and let us answer any questions you might have and help you problem-solve exactly what tasks you need your new parts to accomplish and which parts you're looking for.